Today I have fun news to share -
I am the guest host on the Good Friend Just Click hop!
Want to join in the fun?
Just read on & click below!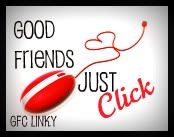 Let's be friends, link, click, and connect! No rules!
Link up and follow as many as you can on the link below.
Become bloggy friends- because you know, blog friends are some of the best friends you can have in life - just ask us!

Leaving comments is a plus on your way to new friendships.
Stumbles, Tweets, and FB Likes are a great way to show love too!

Thanks for stopping by and hope to see you around soon!

By the way, we would love if you wanted to host the hop on your site as well so grab the Good Friends button from our sidebar if you want and join in the fun!

With Love,