We are back with another week of town hopping fun.
We are still on vacation - Woohoo!
We're currently in NY visiting my family, friends &of course taking in some sights.


After taking in the local sights in Atlanta, Georgia
(the Zoo, Aquarium & Coca Cola Factory) which we shared in last week's Hop -
Here are some of the highlights of our fabulous time in
"The Sweetest Place on Earth":
My Hershey's Kisses Factory Workers
We had a great time at Chocolate World -
now it's onto the thrills & rides at the Theme Park!
Views of the Theme Park!
My big girl rode her 1st looping roller coaster..... 3 times! She loved it!

There was so much more we did/enjoyed but I won't bore you with all the pics (of which there are MANY! haha) but if you are ever near Hershey,PA - you must stop! Not only is there lots & lots of fun to be had but the whole town smells heavenly - yes, it actually smells like CHOCOLATE! :)

We had a fabulous time at both attractions.
Personally, it was wonderful for me to share Hershey Park & Chocolate World with my girls, since I had gone here as a child myself with my family and have such fond childhood memories of the place! :)
Now, Are you ready to join in and share some of
your local sights and hometown fun?


Great, because we are looking forward to seeing
all of the fun places you will share this week.
Be sure to grab the button so you don't forget to check in
on all of our excitement and share yours with us
every Friday-Saturday all summer long!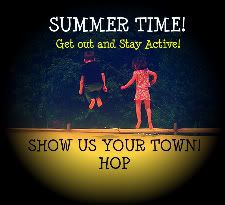 Bern